Born at midnight by C.C. Hunter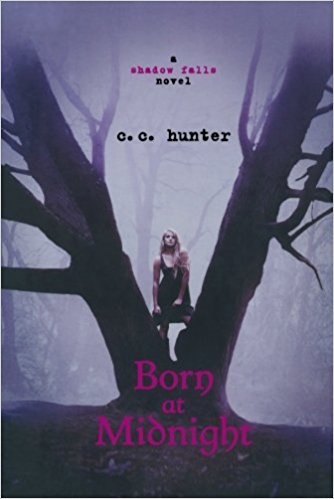 Genre: supernatural contempory
Format: audiobook
Pages: 398
Published March 29,2011
"Just because a guy rings your bell, doesn't mean you have to toot his horn."
This about a girl named Kylie Galen. One day she goes to a party and as punishment her mom sends her to a camp for troubled teens, Shadow Falls. At Shadow Falls Vampires, Werewolves, shapeshifters and fae train side by side learning to harness their powers, contol thier magic and live in the normal world. Kylie meets Della, who is a vampire and Miranda, a witch. Kylie doesn't think she a supernatural creature and she would rather have a brain tumor. She can see ghosts and get visions of how the ghost died. I didn't really like this book. I liked some of the characters like Della and miranda and I thought the magic was fun. The setting could have been better. There wasn't that much going on in the school and It seemed like the characters would gossip more then practice their magic. I didn't really care for the love interest in the book. I was inista love. I also wanted to know what she is, which we don't in this book. At close to the end of the book there is a second storyline on someone trying to close down the school. This book was weird, and had a lot of teenage drama. I liked the voice of the audiobook. I rated this as a 3 out of 4 stars. I don't really recommend this because of the teenage drama and the main character is dumb,
Minaret by Leila Aboulela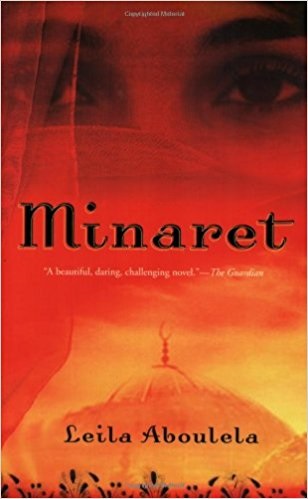 Genre: Contempory/ religion
Format: Paperback
Pages 276
Published August 19,2005
"All through life there were distinctions- toilets for men, toilets for women - then, at the end, the graves are identical."
This is about a rich girl named Najwa. In 1984 one day her dad get arrested for embessalment and he gets hanged. Then her life changes forever! This is a book about Faith in Allah, who is God in the Quran. At first, I didn't like this book. Najwa was very prejudice and stuck up. Then she changed in the last two parts of the book. The book is split into 6 parts and it is told in alternating parts The first part is told in the past, the second part is told in the future. I didn't really like that format. I also got interested in one character and then the next part would deal with other characters who wasn't that interesting. At the end it was inspiring! I absolutly loved it! Najwa choose to believe in Allah and she felt at peace. This book also wasn't preachy and was eye opening about the muslim live. I recommend this book to 13 year old and above. This book does have some hard topics, including death, and includes abuse. But it is about finding God and a faith. I rated this 4 out of 5.
The Emerald City of Oz by L. Frank Baum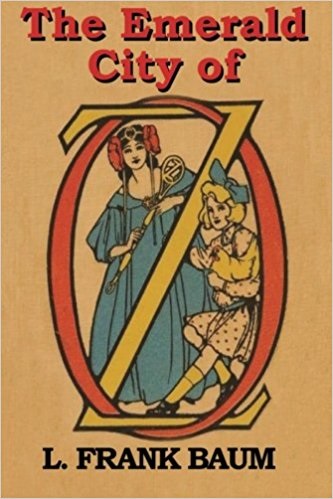 Genre: Children Fantasy
Format: E- Book
pages:295
Published May 1, 2003
"To be angry once in a while is really good fun, because it makes others so miserable. But to be angry morning, noon and night, as I am, grows monotonous and prevents my gaining any other pleasure in life."
This book is the 6th book in the OZ series. This is about Dorothy going back to Oz permently and she bring her Uncle Henry and Aunt Em with her to Oz because the family is losing their farm. There is also the jealous and angry Nome king, who wants his magic belt decided to invade Oz. General Gump gets different types of evil people to help him with the invation of Oz. Dorothy and company meet new characters and visits new places in Oz. My favorite place was the utensels world. The Spoons capture and arrest Dorothy for no reason. It made me laugh out loud. There is also a lot of puns in this chapter. This book was very good. I love the whimsacal writing and the strange creatures and characters, I also enjoyed the puzzle people. I rated this book a 4 out of 5. It was orignally the ending to the Oz world.
Harvard Square by Andre Aciman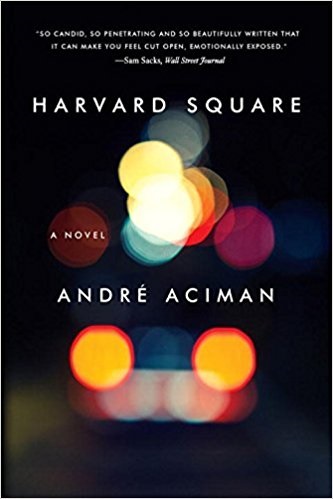 Genre: Contemporary
Format: Audiobook
Pages: 292 pages
Published April 8th 2013
"No one starts as a self-hater. But rack up all of your mistakes and take a large enough number of wrong turns in life and soon you stop trying to forgive yourself. Everywhere you look you find shame or failure staring back."
This story is about a young man in college at Havard, who is studying literature. One day he meets a cab driver named Kalaj and he ends up leading a double life with Kalaj. One day he is partying with Kalaj and the next day he is studying for his final exams. I didn't like this book. It is mostly about Kalaj and his rude behavior about America and women. At one point in the story he slaps a woman and beats up a man. Kalaj also loves to party and he treats women like trash. I also didn't like the narrator because he did Indian accents for the foreign characters. This was annoying and I had trouble understanding what was said. This book also reminded me of Catcher in the Rye. I rated this book a 2 out of 5 stars.
The Last Star Book trailer
The Last Star by Rick Yancey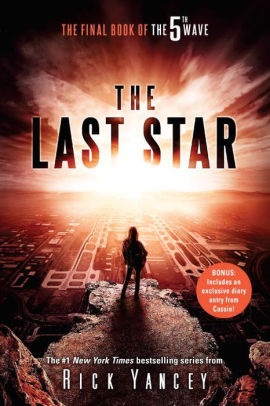 Genre: Young Adult Science Fiction
Format: Hardcover
Pages: 338
Published May 24th 2016
The Enemy is other.
The Enemy is Us.
The Last Star is the last book in the fifth wave trilogy. Cassie, Sam,Zombie aka Ben and Evan are hiding out from the aliens. Zombie goes on a search to find Ringer. This is an amazing series and this book doesn't disappoint. My favorite character is Zombie aka Ben. My favorite part is when Cassie killed the leader of the 5th wave. I also loved how Evans memories were erased (his human part). Ringer was also a strong character and she fought so hard. Sam is also a killer and becomes more soldeir like. The book had so many twists and turns and I couldn't stop reading! I loved the ending and cried as well. I rated this book a 5 out of 5 stars. I recommend this series to science fiction lovers and well as people who love action and adventure books.
The Sword of Summer book trailer
Magnus Chase and the Gods of Asgard: The sword of Summer by Rick Riordan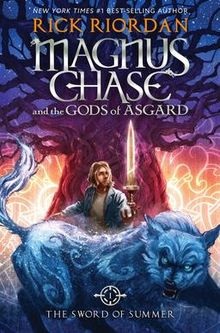 Genre: Middle Grade Fantasy/ Adventure
Format: Hardcover
Pages: 499
Published October 6,2015
"Could you do a glamour and turninto something smaller?" I asked it. "Preferably not a chain since it's no longer the 1990s?" The sword didn't reply (duh), but I imagined it was humming at a more interrogative pitch,like, such as what? " I dunno. Something pocket- sized and innocuous. A pen, maybe?" The sword pulsed, almost like it was laughing. I imagined it saying, A pen sword. That is the stupidest thing I've ever heard.
This is the first book in the Magnus Chase and the Gods of Asgard trilogy, This is about a boy named Magnus Chase and at the start of the book he is homeless. Until one day he runs into his Uncle Randolph, who believes the family line is connected to the norse gods. Magnus calls a sword and he tries to kill a fire giant who are attacking his friends and guess what he dies. He get sent to Hotel Valhalla. This book made me laugh, cry and root for the Magnus. My favorite character was the talking sword Jack, and a deaf elf named Health. This book had Giants, elfs, dwalves and Gods. My favorite part of the book was meeting Thor, who has lost his hammer more than one. We also have a dwalf who crafts fashionable items. This also had fun battles. Magnus and company fight giants, a giant squirrel, and each other. This story is based on Norse Mythology and had characters such as, Loki, Odin,Thor, and Frey. This book is great for reluntant readers and is a fun adventer read. I rated this 4 1/2 out of 5 stars.
Unsaid By Neil Abramson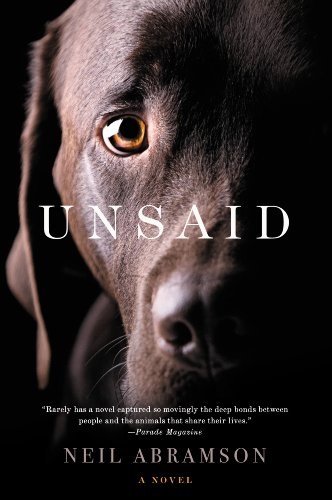 Genre: Courtroom Drama and Animal drama
Format: Hardcover
Pages: 353
Published August 4th 2011
"Pain explains a great deal of human conduct, but the fear of pain even more."
This is a story about a woman named Helena, who dies and cannot go to the afterlife. She haunts and is haunted by the life she left behind. David her husband copes with grief and the demands of caring for her houseful of animals, 3 dogs, cats, 2 horses and a pig. One day a lady comes to David's door and asks for help to save a chipanzee from the goverment.The ladys name is Jaycee. she is working on communicating with cindy, who is a chimpanzee. They use ASL to speak to each other. This story was sad and made me cry out loud. My favorite character was Cindy. I loved her personality. This book was told in the point of view of Helena . Ienjoyed this book and also it made me depressed in the first half of the book. I had to put it down and read something else for a while. The second half was more positive and the book turned into a very good read. My rating was a 3.5 stars. I would recommend this book if you love animal but it is also very sad!
Assassin's Apprentice by Robin Hobb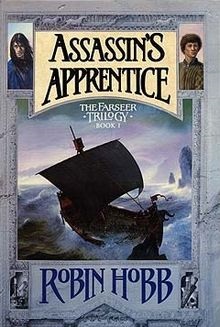 Genre: Political Fantasy
Format: Paperback
pages:448
Published March 1, 1996
"When you cut pieces out of the truth to avoid looking like a fool you end up looking like a moron instead."
This is about Fitz, who is the bastard son of the Prince Chivalry. He is raised by Burrich, the king's stableman. Fitz starts as a child and grow s to an adult. Throughout the book he learns to fight, take care of animals, the arts of the assassin and torwards the end learns the skill, which is the ability to communitate telepathy. This book reminds me of Alanna: The first adventure, because we deeFitz train in different skills and learn the way of the world. My favorite character was the Fool. I wanted to learn more about the Fool. Fitz also has the Witz, which is how he communicates with animals. He can see what they see and can scent there feelings. He also learns the skill, which is an magic that is in royal bood. I liked the hardship that Fitz faced, but there is a lot of plot holes in this book. There is also raiders in this book that kill and steal the townpeople stuff and go town to town. I rated this book a 3.5 out of 5 stars. I liked most of the characters, and I liked the history that was told at the beginning of each chapter but I didn't really understand the magic system. I also like the politcal situations that were mentioned in tthis book.
New Moon by Stephenie Meyer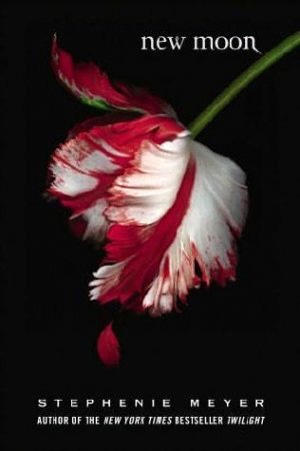 Genre: Young Adult Paranormal Romance
Format: Audiobook
pages:563
Published September 6,2006
"I knew we were both in mortal danger. Still, in that instant. I felt well. whole. I could feel my heart racing in my chest, the blood pulsing hot and fast through my veins again. My lungs filled deep with the sweet scent that came off his chest. I was perfect-- not healed, but as if there had never been a wound in the first place."
This is the second book in the Twilight Saga. We follow Bella's struggle to get over Edward and a love triangle awakens with Jacob. Edward breaks up with Bella and Bella develops a freindship with Jacob. She leads him on and makes him think that she loves him. Edward gets jealous of Jacob. This book also mirrors Romeo and Juilet. although none of the main characters died. Bella tries to put herself in danger to see Edward and Edward almost kills himself because he thinks Bella dies when she jumps off a cliff. Bella also learns that Jacob is a werewolf, which I thought was very interesting. I liked the voice on the audiobook. She protrayed the characters very well. I rated this a 3 out 5 stars because I enjoyed the voice acting so much.
SImon VS the Homo Sapiens aganga book trailer
Simon Vs the Homo Sapians Agenda by Becky Albertalli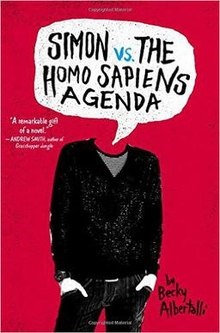 Genre: YA Romance Contempory
Format: E book
Pages: 303
Published April 7th 2015
" Why is straight the default? Everyone should have to declare one way or another, and it shoundn't be this big awkard thing whether your straight,gay, bi, or whatever. I just saying."
This book is about Simon Spier. He is gay but everyone doesn't really know it yet.He has met a guy online named Blue and develop a friendship and they eventully fall in love. Simon is also trying to come out to his freinds and family. Imon ends up coming out to Abby who is nick girlfriend. Simon's best friends are Nick and Leah, who he has known almost forever. Nick is in love with video games. Leah is a unique cookie and an artist. my favorite part of the book is the way they portray SImon's parents. His parents are cool hipsters. They love reality TV and they talk openly with their kids. They tell Simon to practice safe sex. They also get overly excited when their kid accompished something. I also loved the mystery aspect. I was trying to find out who was Blue. Is it Cal or Martin? If you want to know more read the book. I highly recommend this book. This is a great summer read. I rated this a 4.5 out of 5.
1984 by George Orwell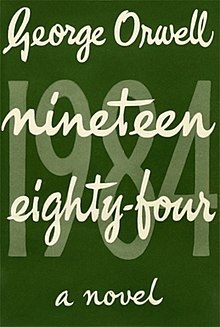 Genre: Adult Dystopian
Format: Paperback
Pages: 328
Published July, 1st 1950
" Who controls the past controls the future. Who contols the present controls the past"
This book is very interesting. It is told in three chapters. The first chapter is about the history of the world and the setting. War is Peace, Freedom is Slavery, Ignorance is Strength. In this world thinking, communicating, expressing yourself is not allowed. That is a crime. The story takes place in London, but it is not the London you and I reconize. London as we know it has became Oceania and they are at war with Eurasia. This is a continous war. It never stops. Also language is disappearing. People are rewriting history according to Big Brother. Winston, the main character in this novel lives his life there, and one day he buys a journal and starts writing in it. Which he knows will get him vaporized. He hates Big Brother, who is the leader of Oceania. The second chapter Winston meets Julia and instantly falls head over heels in love with her. Julia writes a note to Winston and they have sex. Julia has had sex with many men and they have gotten arrested. Winston is still madly in love with her. They end up getting arrested. O'Brian why? The third chapter is when Winston get tortured and he ends up getting brainwashed. It was horrofying to read. I rated this book a 3 out of 5 stars because of the ending and the insta love. The characters were also one dimensional. I love the concept but the character weren't loved. I don't regret reading it.